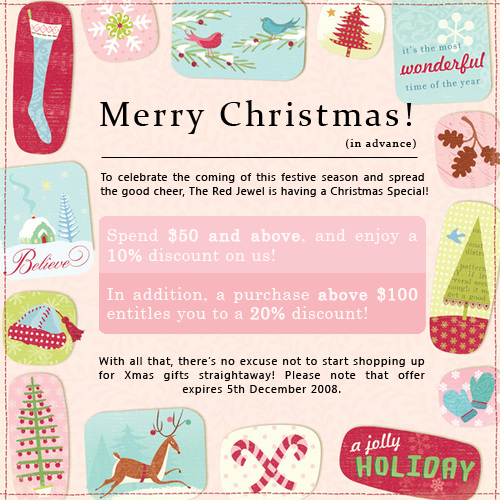 Hi everyone,
As I'm busy churning out the last few pieces of the Christmas collection, just thought that I'd let you guys in on a very important piece of news pertaining potential orders: I will be flying off to Singapore on the 7th of December for my hard-earned holidays and will not be back till end January next year, meaning that I will be MIA as far as new releases to The Red Jewel is concerned for around 2 months!
Unfortunately, in these 2 months of my holidaying overseas, I won't be able to accept new orders; hence,
I will stop receiving new orders* w.e.f the 5th of December
(next Friday).
*If you want to order something that is not yet marked as 'Sold Out' during the period of my holiday, you can still email me about it and I'll see if I have it on hand- I will be bringing whatever remaining stock of jewellery that has already been made back to Singapore with me, so if you're lucky I might just have what you wanted :)
DON'T PANIC THOUGH
! If you were eyeing some stuff for friends/family as Christmas pressies, the options are:
1
. Make full use of this Christmas special and SHOP UP NOW before the 5th of December.
2
. Wait till next year, when I return from holidaying, to process your order. (never too late for belated Christmas/New Year's pressies I guess... but I would still recommend the first option!)
I think that's about it for now. And just before you guys embark on your shopping sprees,
don't forget to hang on to a bit of cash for the upcoming Xmas collection as well
!
PS If you have a big order, please send it in asap as it will benefit both of us (alright, me mostly) so that I won't be overwhelmed with the volume of the order, and have a bit of time to work around it.
Please note: During the period of the Christmas Special, all membership benefit discount schemes are invalid. The Red Jewel's Christmas Special also does not apply for customizations.