Okay, so I have been successfully ignoring this website for the past 1 month. Just a heads-up though: the new collection is definitely underway, I've made some stuff but just haven't gotten round to photographing them yet.

Something else that's exciting! I am planning to revamp this website and launch a whole new section- a COMPETITION section!!! Where I will post up, periodically, various competitions for you lovely people to take part in and grab your chance to win some freebies from The Red Jewel. How good does that sound?

Together with this sneak peek of it, I officially announce the release of TRJ's first ever competition!

Here's your chance to win some sparkly prizes from The Red Jewel! New competitions do come up once in a while, so check this space.

TRJ's Rules of Play: READ THESE FIRST!
1. Only TRJ mailing listees are eligible to participate in these competitions. By taking part in any of the following competitions, you are hence agreeing to become a TRJ mailing list member.
2. Strictly NO CHEATING by posting multiple competition entries! I do check, just so you know :P
-------------------------------------------------------------------------------------------------------------------------------
And having read all that, let's see what we've got!
Finish this sentence: "My favourite piece of jewellery from The Red Jewel is __________, because..."
Status: Open
Prize: Midnight Magic bracelet (pictured below)
Closing date: 15 September 2008
Only 1 winner will be selected based on the best answer given.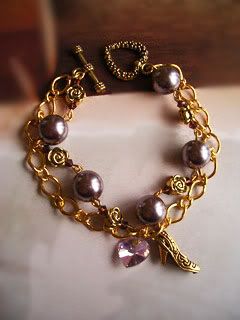 Entry form:



Knock yourselves out! Keep browsing those categories so you can find something you want to write about :P Have fun with this while I do my best to produce the next collection asap.