Hello again everyone!



Thought you'd seen the last of me? NEVERRRR!!!



Firstly

, I would like to apologize for the horrible incident with photobucket, my image hosting website. This is the first time that I have exceeded my monthly bandwidth, which conveniently disables all my image links as a result and makes my shop into a pile of cyber goop which left me no choice but to put my shop 'Under Construction' for about half a week. An online blog shop owner's worst nightmare indeed. Very, very sorry about that!

Secondly, ummmmmmm... I really think I shouldn't be doing this BUT I promise this is the last, final, lastlastlast of the updates everrrrrr for a long, long time. Afterwhich, school rules. Totally.

Anyhow, presenting- Heartsong. 2 lovely heart pendant necklaces in antique silver and gold, adorned with a cluster of swarovski crystals at the top to make it extra special :)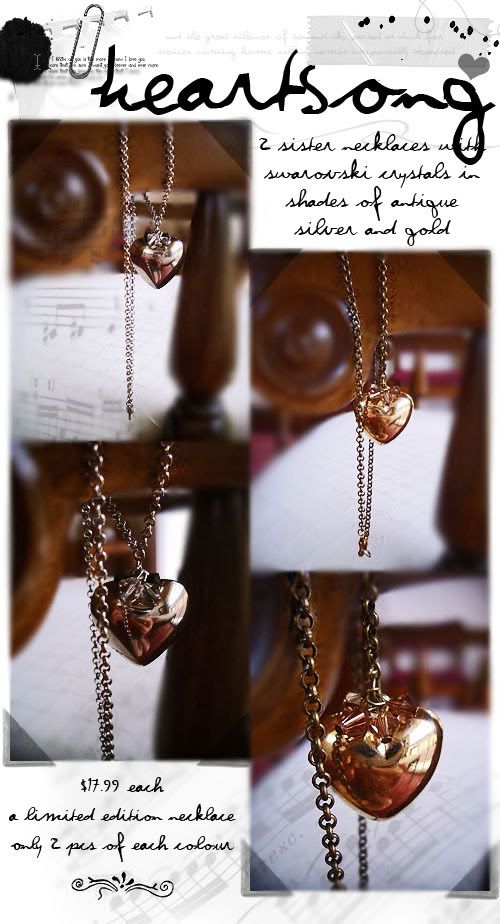 Please note that I only have 2 of each colour in stock and I will not be doing any remakes of these necklaces.



PS

How appropriate; you might still be able to get these necklaces as a gift in time for Valentine's Day!



PPS

Do check out my ongoing 'A Lil Pink Pre Vday Sale' at the bottom of the page for more great gift ideas! Sale ends 14 February 2008, while stocks last.