It's that time of the year that calls for a full clearance of my jewellery! Ridiculous discounts of 50% or more await you as you click the following buttons to navigate through this once-a-year, not to be missed, awesome sale. Enjoy!
Discounted lines:



Terms & Conditions of TRJ Mid Year Sale 09
:
1. Normal mailing list benefits not applicable.
2. Prices are in AUD. For conversion to other currencies, this
link
.
3. Prices do not include postage costs.
4. Sale ends 5 July 2009. (including the earring sale; it's been extended!)
PLUS - massively discounted postage rates for my loyal Singapore customers. Can this sale + cheap postage combination get any better??? (I think not!)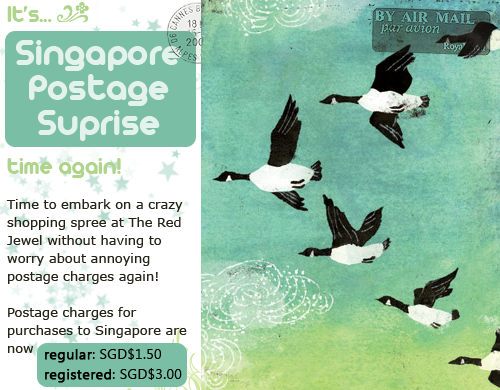 Terms of Singapore Postage Surprise
:
1. Offer expires on the same day as the TRJ Mid Year Sale; on 5 July 2009. This means that if you submit your order on 5 July, and the invoice is mailed to you only on the 6th of July, postage rates in the invoice will still follow that of Singapore Postage Surprise.
2.
***If you choose to participate in this, your purchase will only be posted out on the fixed date of 11th July 2009, as part of a bulk consignment. (IMPORTANT!!)***