Hello People!
I have come up with a new feature to add to the website: it will be the Featured Jewellery Of The Month (or varying time period depending on when I feel like it!) feature! All you have to do, as TRJ customers, is to give me some feedback on a particular purchase that you really like or felt has some special meaning to you, and I will select one to display here on the website for the rest of the world to see.
Well, for this month (or varying time period), I am very proud to announce that the Featured Jewellery Of The Month goes to the Enrapture Set, purchased by Jo to wear to her sister's upcoming wedding in early February!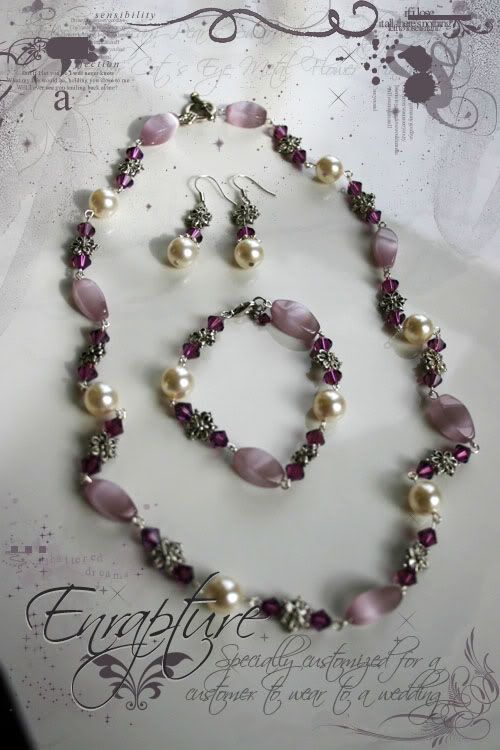 "Thank you Sam for my customised set of jewellery made specially to match the dress I am wearing for my sister's wedding in February 2008. The Enrapture (necklace, earrings, bracelet and ring) is an exquisite, classy, quality made, one of a kind set of jewellery. Thank you for your attention to detail, regular feedback during the design process and hand delivery. I will highly recommend you to others and continue to indulge myself from time to time!"
-Jo-Anne M, 24/1/08
This has been quite a big project for me but definitely a worthwhile one! To Jo: I had lots of fun creating this 'Enrapture' set and I hope you will like it as much as I do! Hope the wedding goes great and remember to have lots of fun!

PS When I took the photo I didn't have the ring with me, hence the absence of the ring. You can look for a picture of the Enrapture ring here. But everything else to the set is there!
Stay tuned for the next Featured Jewellery Of The Month! :)