Hey guys,
I will be taking preorders for a very new addition to the shop- rings! I have made 1 so far, and am obviously very satisfied with it, so I am now taking pre-orders of this ring as my supply of beads and raw materials for ring-making is very limited.
So, long story short- this is the photo of it. Yay!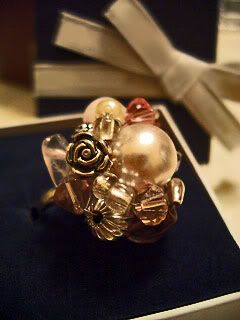 I am also most certainly open to customizations- to those of you who adore big beaded chunky rings like this but hate pink, email me back stating what colour tone you'd like the ring changed to, and I'll see if I can do it for you. (I am open to quite almost everything, as long it's not too ridiculous like fluorescent green or something) Might I also casually add that this will make the perfect New Year's pressie.
Important: Because of tight time constraints, this ring preorder closes on the

30th of December 2007, which is in 4 days' time

. Orders later than that might not be able to be processed due to limited ring-making materials, as previously explained.
Thanks guys!